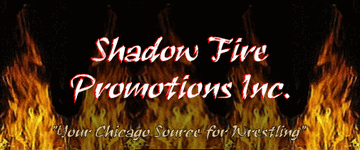 PRESS RELEASES
When Shadow Fire Promotions formed in 1998, we were only selling vintage commercial releases from WCW and the WWF, with an occasional ECW "white box" when we could find them. Once ECW secured a video distribution deal with Pioneer Home Video, we began to carry them, as well.
During these early years, it didn't seem important to keep a written record of the company's history or issue press releases, despite the fact that we were already unveiling services that would distinguish our company from others, such as our search service, where we track down that hard to find wrestling collectible for you for a fee.
Breaking into wrestling under "Lifeguard" Sonny Rogers, in 2001 we signed on to distribute for our first independent federation, the now defunct Midwest Championship Wrestling run by Brian Zenner. At the same time, we also signed on our very first independent wrestlers, XXXplicit Content, XXXplicit Bailey Mannix & "Delicious" Danny Scott.
From there, several independent wrestlers and wrestling federations noticed us at events and saw the advantage we could provide in terms of additional exposure for themselves or their federation, and we gained more clients and established our mailing list.
As sometimes happens in wrestling, federations closed and wrestlers retired. As our travel schedule lightened a bit in 2003, it enabled us to launch our Official website, and re-design our merchandise catalogue.
As our influence grew, we acquired clients from outside the midwest region. Wrestlers with whom we were affiliated travelled and told others about us, and we would be contacted by promotions across the U.S. to distribute their merchandise in the midwest region.
Toward the end of 2005, we would create an account on MySpace, far and away the most popular of the social networking sites online at that time, to create another avenue of publicity for both us and the wrestlers and wrestling federations we worked with. It also enabled us to network both locally and Internationally with wrestlers, wrestling federations, Mixed Martial Arts fighters and fight promotions who may not be aware of us. Prior to creating an account on MySpace, we would only announce important happenings on our message board, located at http://www.sfpincchicago.com/boards (a practise we still do). However, now we had another place to announce important signings.
We had begun distributing media released by the Ultimate Fighting Championship from our inception, but began to expand our offerings as the sport of Mixed Martial Arts grew and more fight promotions began to offer media releases. In 2009, we began the process of re-branding and expanding to offer all of our services to the Mixed Martial Arts world, as well.
With this whole new world of both fans of wrestling interested in the media we carry, as well as promotions, fighters, and wrestlers interested in working with us, plus our own internal expansion and inquiries about our history, we decided to start "making a little more noise" about the internal happenings of Shadow Fire Promotions, aside from our message board and Yahoo group. As it turns out, our first week after making the decision would be quite a busy week! Below are our Official Press Releases, in both Microsoft Word and Adobe PDF format. Simply click on the link for a prompt to open or save. Feel free to save these to your own computer and pass them along to other fans, friends, or anyone you feel may be interested! It is your support that enables us to grow!