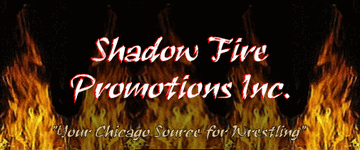 Thank you for visiting Shadow Fire Promotions' online wrestling and Mixed Martial Arts store.
Check back often, we're constantly updating our site!
We are an EXCLUSIVE distributor of the Hitman Hart Wrestling With Shadows 10th Anniversary Edition Two DVD Set With Official Lobby Posters.
Lobby posters are a Shadow Fire Promotions, Inc. EXCLUSIVE
You may check out some of our available merchandise at Half.com, Blujay, Ecrater, & Ebay.com!
Looking for a place to build your own website? Click here to select a hosting package that best suits you!
For other plans, just e-mail us at gdennis@sfpincchicago.com for more options. We can set you up with plans no matter what the size of your business or organization.
Looking for a free solution? Forget those "other" free sites, they have more ad than webspace. Instead, check out http://www.cwahi.net.
Unlimited space & bandwidth plus e-mail, support forums, and outstanding customer service. Best of all, NO ADS!
WE CARRY ONLY COMMERCIALLY RELEASED MEDIA
WE ARE NOT TAPE-TRADERS.
HELP STAMP OUT TAPE TRADERS...NO DUBS, NO BULL! ™
Rant and rave about SFP and all of our affiliate companies,
Share your thoughts and opinions on wrestling and Mixed Martial Arts in general,
Or sound off on anything else that is on your mind on our message board, located at http://www.sfpincchicago.com/boards.
| | |
| --- | --- |
| CATALOGUE SERVICES | CUSTOMER SERVICES |




Visit Shadow Fire Promotions live & check out our merchandise table at the following independent wrestling federations:


Do you want to have your MMA or wrestling promotion's link here? Click HERE for details!