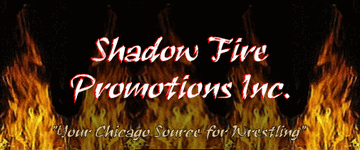 REQUEST A CATALOGUE
To request a FREE catalogue on CD-ROM or USB, write to:
Shadow Fire Promotions, Inc.
P.O. Box 2746
Chicago, IL 60690 USA

New catalogues are included with all purchases, and you can also get updates through our mailing list at (COMING SOON!).
Alternatively, you can view our current catalogue online here.
You can also check out our current catalogue, as well as catalogue archives, our podcast, Front Row Ringside, and other video clips at our YouTube, Vimeo or DailyMotion Channels.
Ready to place an order? Start here.