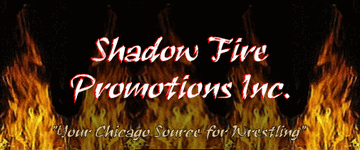 IMPACT WRESTLING
(formerly TNA (Total Nonstop Action Wrestling) and NWA-TNA)
The promotion now known as Impact Wrestling was born from the ashes of World Championship Wrestling (WCW), which folded in 2001 and was absorbed into the World Wrestling Federation (WWF), and Extreme Championship Wrestling (ECW), which folded shortly thereafter. Several wrestlers and wrestling personalities associated with WCW had contracts through the company that were not picked up in the acquisition, which included (among many others) eventual founder Jeff Jarrett, his father Jerry, and WCW website personality Bob Ryder.
Out of work, the three men were on a fishing trip discussing the future of pro wrestling with the monopoly of nationally televised wrestling by the then-WWF when Ryder commented that with the two other nationally televised wrestling promotions failing in the same year that TV stations may no longer be interested in carrying pro wrestling, perhaps sensing that wrestling was no longer good for ratings and mused that a wrestling promotion could potentially succeed if they bypassed television, and instead went straight to pay-per-view.
While Ryder was just making talk, Jeff Jarrett took the idea seriously, and began to formulate in his mind how a wrestling promotion could survive without a national TV deal to benefit those ex-WCW wrestlers who were not brought on by the WWF, as well as have a place for future generations of wrestlers to showcase their skills, not to mention having an alternative to the WWF.
Throughout 2005, TNA continued to be an alternative place for independent wrestlers who were unsigned by the newly-renamed World Wrestling Entertainment (WWE) to showcase their skills on a national platform, and also functioned in the role that World Championship Wrestling (WCW) once did, which is to be another place for wrestlers that WWE had released from their contracts to perform full-time. TNA's most significant initial signing was the recently-released former Olympic gold medalist Greco-Roman wrestler Kurt Angle, believed by many to be one of the greatest modern pro wrestlers.
TNA would continue to sign big name former WWE and WCW wrestlers, although none of these signings did much to raise TNA's public profile until late 2009, when none other than Hulk Hogan, who had briefly previously competed for TNA early in the company's history, would begin to make noise about wanting to get back into wrestling after the success of his second reality show, Hulk Hogan's Celebrity Championship Wrestling, where Hogan (and several of Hogan's wrestling friends) would train C-level celebrities such as former "The Partridge Family" star and DJ, Danny Bonaduce, former "Diff'rent Strokes" star Todd Bridges and others to be wrestlers.
Hogan's first on-camera appearance with TNA would be on the TNA Impact show aired live on January 4. Although it did respectable ratings going head to head against the established WWE, which fired back with the return of Bret Hart to the company after an absence of over a dozen years due to personal issues with WWE owner Vince McMahon, it failed to hold TV viewers interest, and their overall ratings would continue to stay stagnant.
On February 15, 2010, it was announced TNA would permanently move to Monday nights beginning March 9, 2010, and would be live, going head-to-head with the WWE's established show, Raw. Unfortunately, this move only lasted a few months, as TNA not only was not able to compete head-to-head, but more people watched the Thursday night replay (which was aired at the regular Thursday night time slot), and so it quickly moved back, abandoning the Monday night experiment.
As of the beginning of 2015, TNA announced they would be leaving their long-time home channel of Spike TV, and moving to Destination America (whose family includes Animal Planet, The Discovery Channel, and The Learning Channel, among others). The company would also début a new logo, which is seemingly a way to quietly distance themselves from the TNA (tits-n-ass) name, in favour if the name Impact Wrestling.