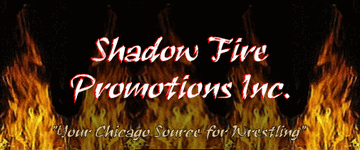 PHOTOGRAPHY & CINEMATOGRAPHY SERVICES
As part of our effort to become a full service media company, Shadow Fire Promotions is looking to team with talented photographers and cinematographers who are interested in wrestling and Mixed Martial Arts that would be available to our clients to help in the production of our shows.
Although we want to start with the Chicago area, we are not necessarily limiting ourselves to it. If you are a cinematographer or photographer interested in working in the field of wrestling or Mixed Martial Arts, contact gdennis@sfpincchicago.com with info on your video or photography resume, and how we can get in touch with you. We'll contact you from there for further information.