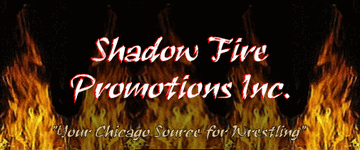 SELL YOUR WRESTLING / MMA COLLECTION TO US




Do you have a wrestling or mixed martial arts collection you want to sell to us? Your collection can be CDs, videos, DVDs, magazines, or just about anything! Our specialty is wrestling and Mixed Martial Arts media, which covers books, magazines, movies, CDs, or just about any printed or recorded item. We're also interested in trading cards, Zippo lighters, autographed promo photos (as long as they aren't personalised; ie, "To Joe"), Playboy or other magazines featuring interviews or pictorials of wrestling/Mixed Martial Arts stars, and other novelty and unique items. Don't limit yourself to what you see here, though! We could fill an entire site with everything we're interested in! Just send us your list, and we'll let you know what we're interested in! It can be national promotions, or your local independent promotions. We take it all! Contact us at gdennis@sfpincchicago.com with details of what your collection contains, the condition of the items, and for videos/DVDs, the format (remember to make sure your videos/DVDs are commercial originals, we are not tape-traders!) and we will inform you of what we are interested in picking up.

International video/DVD sellers, we buy media that is not NTSC North American format (e.g., European PAL format), so feel free to send us your PAL video/DVD collection! We also welcome your magazines, CDs, or any other printed media, the same as our U.S. customers! We also buy your International (i.e. Region free) media players (e.g. DVD, Blu-Ray, VCR, etc.)

While we do not buy dubbed copies of anything that has been commercially released, we are sometimes interested in dubbed copies of TV shows, commercials, talk shows and other shows featuring wrestlers that have never been commercially released to video/DVD, for our personal collection. They must have excellent quality, have the show title and date. Please do not ask us if we are interested in your collection of Raw, Nitro, Impact, etc. We're not interested.

Wrestlers, retired wrestlers, retired and active fighters, defunct and active promotions, feel free to send us a list of any merchandise you might have, as well. Fighters and wrestlers that have since moved on, and defunct promotions still bearing merchandise from when they were active, we will take it all! Of course, we would love to know a little bit of the history of your merchandise, so we can pass on the enjoyment to our own customers!

Defunct Mixed Martial Arts and pro wrestling promotions, we are very interested in acquiring the distribution rights to your tape and merchandise library. Please contact us for details on how your promotion's legacy can live on long after you have closed your doors for good.

If we choose to buy all or part of your collection, please read the below carefully. These are the terms we buy under, and are binding and non-negotiable. If you wish to sell to us, you MUST have read and understood these terms or we can not do business with you.


ALL merchandise is purchased on an "on approval" basis, meaning the following:


We reserve the right to refuse to do business with known tape-traders/bootleggers.


We will negotiate a NON-BINDING price for your collection based on what you tell us about it.


We will then send you a formal Letter of Intent stating exactly what we are intending to purchase, and the purchase price if the items meet our approval. A copy of this letter is attached below.


You provide us with your name, address, & telephone number and send the items, along with one signed copy of the letter of intent to our U.S. mailing address:



Shadow Fire Promotions, Inc.
Attn: Gregory L. Dennis
P.O. Box 2746
Chicago, IL 60690



with Signature Confirmation, Return Receipt for Merchandise (U.S.), or some other traceable method of shipment & receipt (International). Please note: Delivery Confirmation is NOT sufficient. Delivery Confirmation only tracks a package's arrival at the destination Post Office, it does NOT actually confirm receipt.
You may also ship to our attorney's office, if not comfortable with a Post Office box. You must contact us in advance about this option. We are not listing his office or contact methods online for privacy reasons.


Please ensure your items are SECURELY packed in a sturdy box and properly protected from rough handling in transit and the elements. If your items are damaged in transit, this will affect the amount we are willing to pay. Remember, most of our customers are collectors, too.


We will examine the items, and if they meet with our approval, we will forward the appropriate funds, as per the terms laid out in our Letter of Intent. All unsealed items are screened individually.


If they do not meet with our standards, we will return them to you at our expense. We may, at our discretion, contact you before return to offer a re-negotiated price.


Alternatively, if you are uneasy about shipping us merchandise, you may elect to have funds held in escrow. However, it is the burden of the seller to pay for any escrow fees that may result.
This is done to protect us from individuals attempting to pass off "bogus" merchandise, bootlegs being passed off as originals, and individuals attempting to commit fraud. It also gives us an opportunity to examine the merchandise to see if your description matches our impression of such. Signature confirmation & traceable delivery insures that you have a record of our receipt of the merchandise to protect you and your investment.
Defunct and inactive wrestling promotions, feel free to contact us in regard to selling us any remaining media and merchandise remaining after your final show!
Download a blank version of our purchasing contract in Microsoft Word format here or in PDF format here.
Please note, our address is in the header of the form, and does not usually appear in the normal view of the document, but will appear when it is printed.
Questions? Comments? Click on the icon to e-mail us: