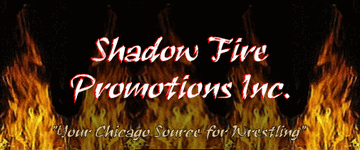 SPECIAL ORDERS DESK /
COLLECTIBLE SEARCH SERVICE
Is there something in our catalogue that is temporarily out of stock? How about something not in our catalogue you would like to see us carry? Are you frustrated by knowing a certain wrestling item exists, but can't seem to find it anywhere, and lack the time and resources to track it down? Well, that's where Shadow Fire Promotions, Inc. comes in! Since we're fans first, as well as collectors, we understand the frustration of not being able to find something you know exists. The struggle to find wrestling collectibles that no one else has, or knows exists, was the impetus for creating this service.
Our network can literally search worldwide for wrestling related memorabilia to include rarities, imports, limited editions and more. The only limit is we have to be able to verify the existence of the item in question.
How does it work? Once you call or e-mail us requesting information regarding the existence of a certain item, we can give you a general idea of how long it may take to track your item down and the deposit needed to get you started. Please note, when you are requesting an item long out of print, imported, or otherwise hard to find, there is no firm idea of when we might locate it or the final cost.
You may always specify the maximum price you are willing to spend, and we will always keep you informed of any significant progress, or if any questions arise. You are also free to cancel our search efforts at any time, as well. However, there are no refunds.
All these terms are spelled out in our search service contract, which can be used to pre-order an item temporarily out of stock, or track down something else. We usually limit our search to media items such as CDs, magazines, DVDs, videos, etc., which brings our search to realistic proportions.
Download a blank version of our search service contract in Microsoft Word format here or in PDF format here.
Please note, our address may not appear in the normal view of the document, but will appear when printed.
Questions? Comments? Click on the icon to e-mail us: